Cast bronze alloys have been used for centuries in a broad spectrum of bearing applications.Other bearing materials have been unable to match their versatility.Cast Bronze bearings are recommended for
medium to heavy loads, impact, and temperatures. Made from U.S. Mill certified C93200 SAE 660 bearing bronze bar stock. This material is resistant to impact, wear, and corrosion, and has superb anti-friction
properties. It also has excellent machinability, meaning a high quality surface finish can be achieved.

This combination of mechanical properties creates a tough durable bushing that will meet or exceed the
fitment and service life of all other replacement style bushings available. Our C93200 SAE 660 Bar Stock is a continuous cast product. Continuous Cast Bronze offer a highly uniform, dense structure.Fast,
controlled cooling during the continuous casting process produces a fine, uniform microstructure, increasing the physical strength of the material. This superior material yields a bushing with a longer more
reliable service life.
APPLICATIONS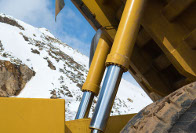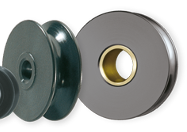 It is not at all unusual to come across a cast bronze bushing that has been performing satisfactorily for decades.
In fact, a properly designed and maintained bronze bearing often outlasts the equipment it serves.
The cast bronze bushing's relatively high hardness and good impact resistance make it widely in machinery,
earth moving equipment, hydraulic cylinders, lifting equipment, pumps, and various other bearing applications.